Silver Cross Wayfarer 2021 Pram, Sapphire
Silver Cross Wayfarer 2021 Pram, Sapphire
The new Silver Cross Wayfarer 2021 is perfect for urban lifestyles - take on the city with ease.
Stroll those city streets in style with the new Silver Cross Wayfarer 2021. Perfect for urban lifestyles, the best-selling Wayfarer travel system is now even lighter, with a great new look. Wayfarer 2021 is effortless to push and manoeuvre, while the quick, compact fold mean travel and storage is easy.
The stunning design features a polished chrome chassis, beautiful soft sheen fabrics, a coordinating leatherette handle and stylish quilted details.
The carrycot is lined in naturally antibacterial bamboo, which also helps to regulate temperature, while the reversible, multi-recline seat features the new Genius harness system for greater baby comfort and added ease-of-use.
The Silver Cross Wayfarer is also compatible with the Silver Cross Dream and Simplicity Plus infant carriers to create a convenient travel system.
What's Included

Wayfarer chassis with extra large basket

Pushchair seat unit with bumper bar

Pushchair seat hood

Carrycot with bamboo lining
Carrycot hood & apron
Raincover - designed to fit the carrycot and pushchair seat unit
---
Over night sleeping carrycot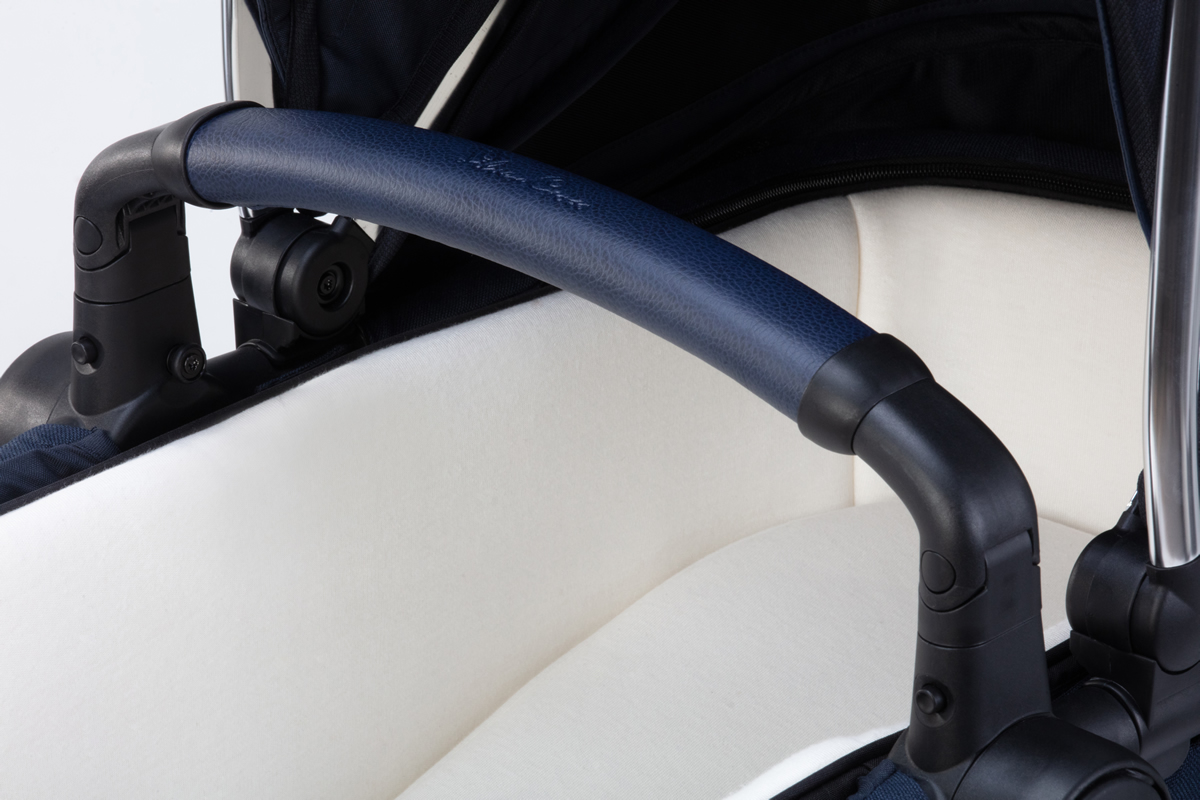 The carrycot is lined in naturally antibacterial bamboo, which also helps to regulate temperature and is suitable for overnight sleeping.

---
Genius Harness System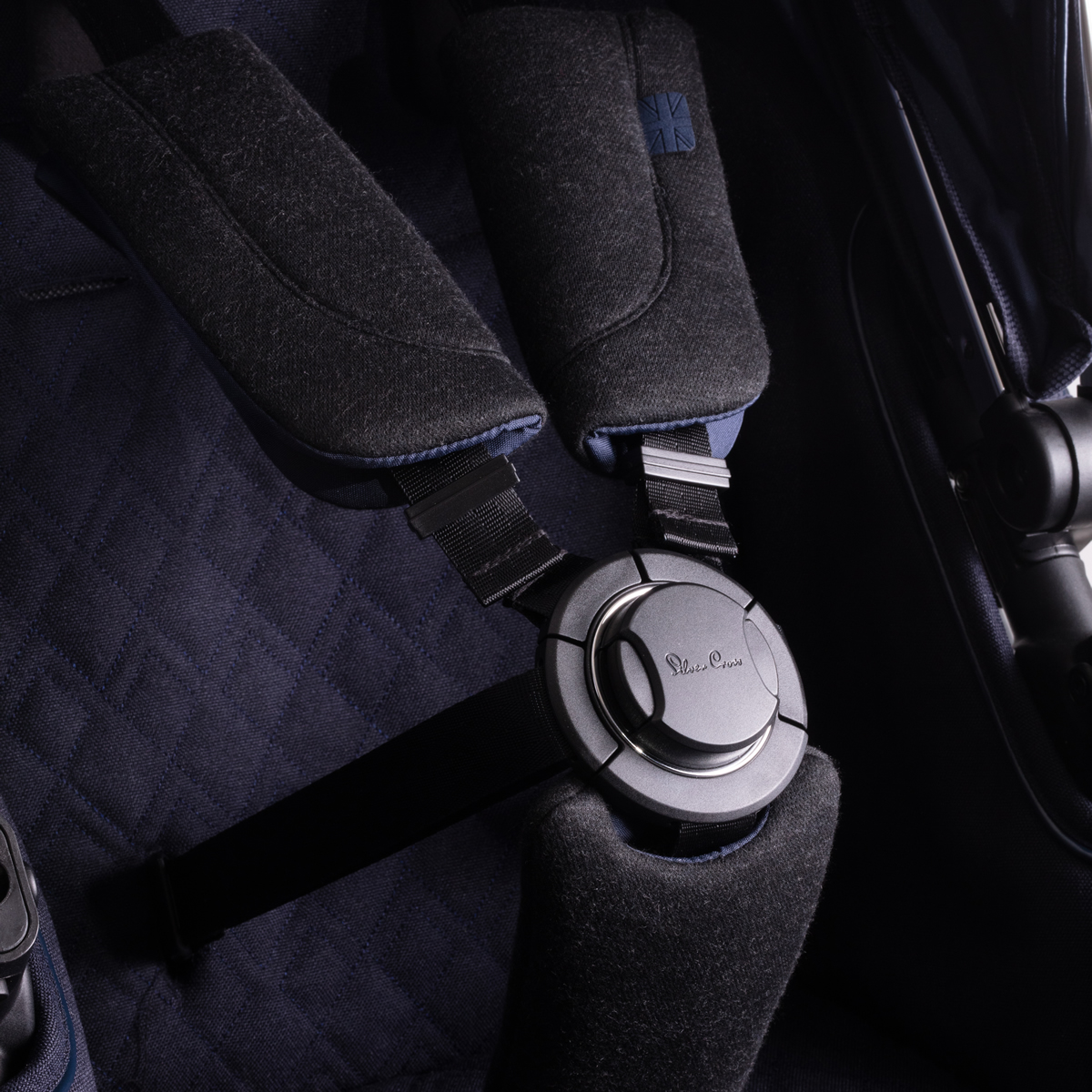 The new Genius harness system features one-motion, rucksack-style adjustments, deeper-padded chest and harness pads and a new magnetic buckle. The new magnetic, 5-point safety buckle is a revolution in pushchair design. Easy-to-use magnetic fastening fit together with three simple clicks, taking the pain and frustration out of fastening your little one into their pram. When they're ready to get out, simply squeeze the child-proof release and the buckle opens.
The Genius harness system also provides enhanced baby comfort with deep-padded chest and harness pads and improved ergonomic design. The unique rucksack-style adjustments mean there's no more fiddling with straps as your baby grows and the roomy design makes it easier to get baby in and out.
---
Large shopping basket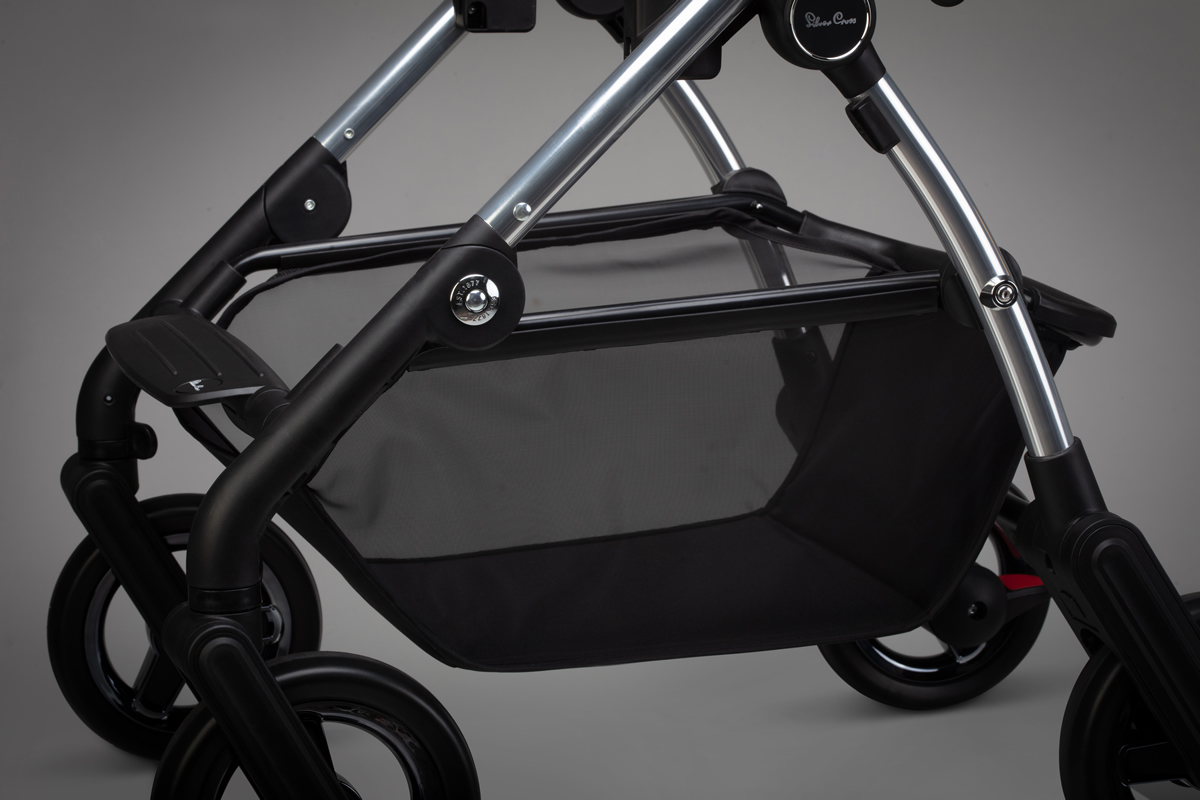 Wayfarer has a large shopping basket for carrying all those essential baby items.
---
Compact chassis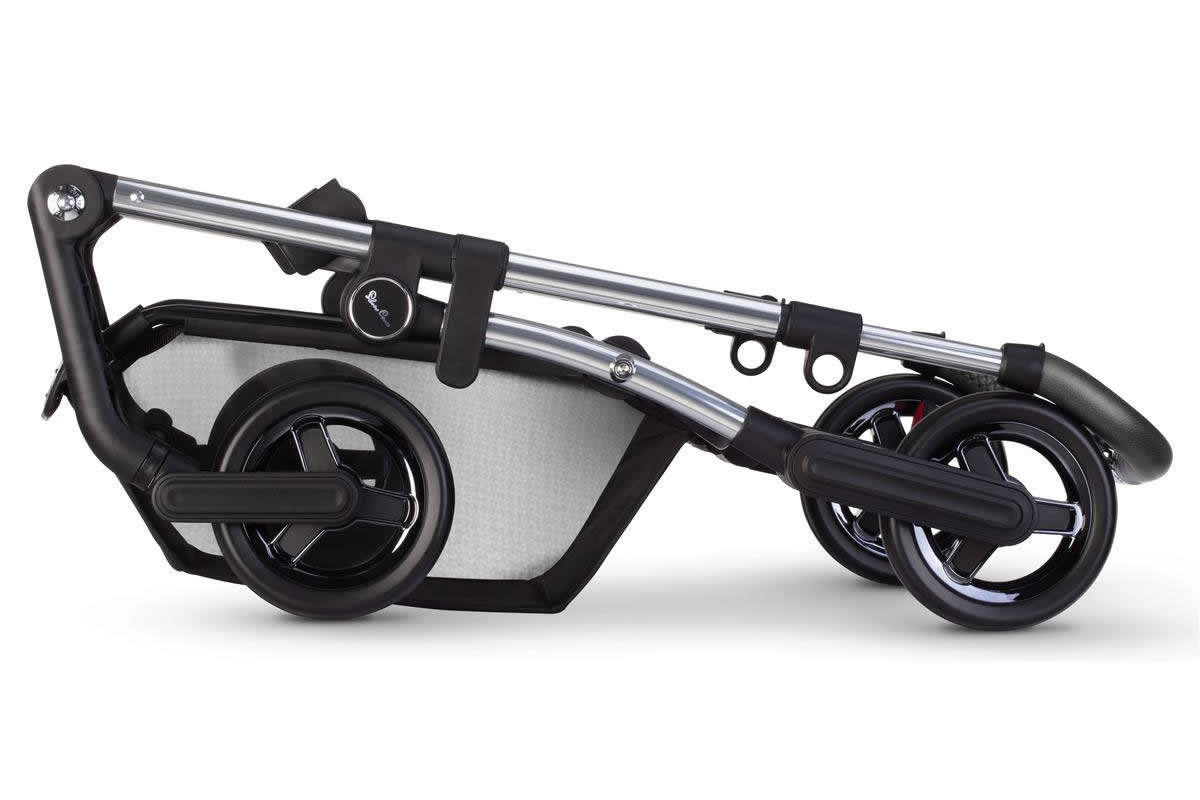 Light and compact Wayfarer 2021 can be folded with the pushchair seat attached and even stands freely when folded.

---
Key Features
Overnight sleeping carrycot

Natural bamboo lining - The carrycot is lined in natural bamboo fabric with anti-bacterial properties to help regulate temperature - perfect for overnight sleeping.
Antibacterial mattress
Multi-recline reversible seat - A multi-recline pushchair seat that easily switches between parent facing and forward-facing modes. Suitable up to 25kg.
The reversible seat has three recline positions, including lie-flat.
Includes the new Genius harness system with magnetic buckle.
Adjustable calf support.

UPF50+ sun protection hood - Extendable, ventilated hood offers UPF50+ protection, with a pop-out sun visor and viewing window.
Multi-height handle - Crafted from leatherette with stylish chrome detailing. Wayfarer benefits from a multi-height adjustable handle with four positions ensuring ultimate parent comfort.
Polished wheel design.

In-line wheels - The puncture-proof Wayfarer tyres are in-line for ultimate manoeuvrability on city streets.
Multi-terrain wheels.
Lockabe front swivel wheels.

Compact chassis - Light and compact Wayfarer can be folded with the pushchair seat attached and even stands freely when folded.
Chassis - The chassis folds to a compact size and the wheels can be removed for easy storage.

Extra large shopping basket - Wayfarer has an extra large basket that's ideal for storing those baby and parent essentials.
Specifications
Suitable from Birth to 25kg

Open dimensions: L82cm W54cm H93-107cm
Folded dimensions: L85cm W54cm H32cm
Carrycot weight: 2.7kg
Seat unit weight: 3kg
Chassis weight: 7kg
Silver Cross Warranty
Automatic 3 Year product guarantee registration
When you buy Silver Cross prams, pushchairs, and nursery furniture, your purchases are automatically protected by a three-year warranty against manufacturing fault as long as you register on the Silver Cross website within 28 days from date of purchase.

Automatic 2 Year Warranty on Silver Cross car seats
When you buy a Silver Cross car seat, your purchase is automatically protected by a standard two year warranty against manufacturing faults. When you register your product via the app, you will receive an additional 1 years free warranty.
Our car safety collection is guaranteed for a period of 24 months (plus an additional 1 years warranty when registered via the mobile app) from the date of purchase against manufacturing faults and material defects, when the product is used correctly according to the manufacturers instructions. The manufacturers warranty is not transferable and only the original purchaser can make a claim. Please retain your proof of purchase.
Visit https://www.silvercrossbaby.com/customer-service/uk-warranty-registration/ for further information and to register your product.